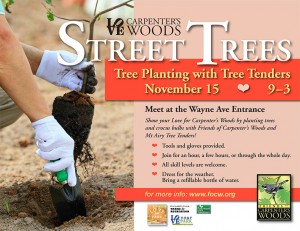 Friends of Carpenter's Woods is joining with Mt Airy Tree Tenders, Philadelphia Parks & Recreation, and Fairmount Park Conservancy to plant over 30 street trees along the West Sedgwick St side of Carpenter's Woods. We are excited to have new trees to replace the older street trees CW has lost over the past decade.
This is our Love Your Park Event, Saturday, November 15, 9 AM to 3 PM.
We will have additional trees for planting in the woods, along with some crocus bulbs for cheerful spring flowers.
Please join us. Bring a friend or neighbor!
Work for an hour, two, or through the entire day!
All skill levels are welcome. There will be expert leaders to guide us all day.
Tools and gloves will be provided. Dress for the weather. Bring a refillable water bottle.
If you wish more information, please reply to info@focw.org, check FoCW website and Facebook page, or contact Mt Airy Tree Tenders.