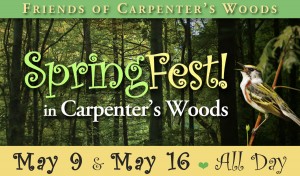 It's time for the Love Your Park Week Spring Fest in Carpenter's Woods!
Please join Friends of Carpenter's Woods for 2 Saturdays of FREE events, including Trail Walks, Children's Bird Pageant, and a BirdPHILLY Bird Walk. It promises to be a great time in the woods with knowledgeable experts and friends!
Bring your family, your neighbors, and your friends for a great day in the lovely Springtime in Carpenter's Woods.
Schedule of events and poster are below. See you in the Woods!
*Note: Ken LeRoy's 2:30 trail walk on 5/9 @ 2:30 has been cancelled due to a scheduling conflict.
2015 Spring Fest Schedule (PDF)